RZulrahᵖʳᵒ
Version 1.0.0 - last updated on 2021-04-16 05:50:25
Currently there are 1 people using this script
RZulrah
Welcome to RZulrah, one of the most efficient OldSchool Runescape zulrah scripts on the market. RZulrah is a premium script/bot for OSRS, that kills Zulrah. Make sure u read all the sections thoroughly before you decide to run/buy this script.
sick script runs without any problems -Aykut
Great script! Your good at what you do.
-Icutwood55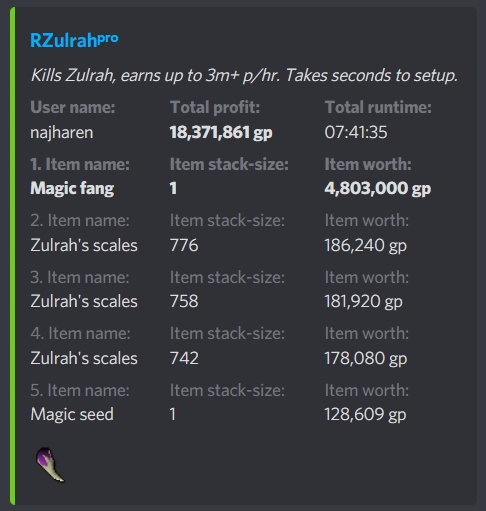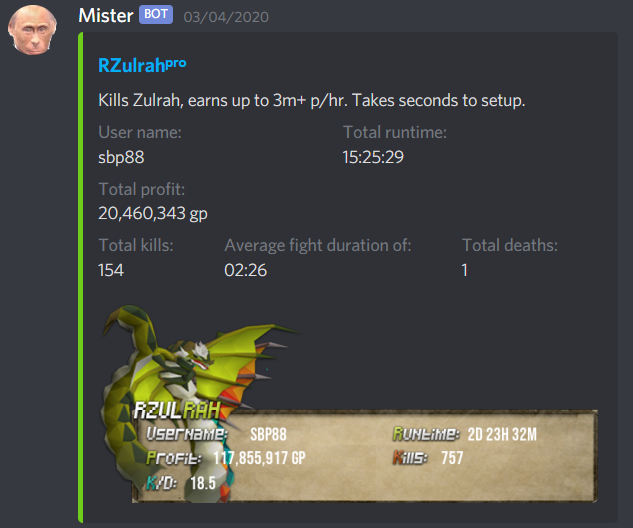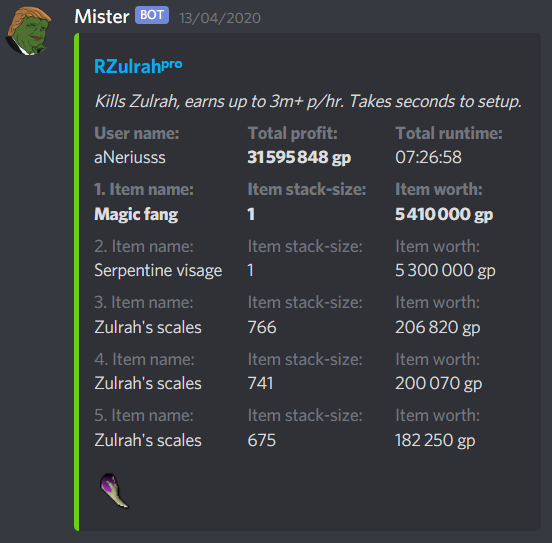 Join the discord for live progress reports!

Requirements
Computer specifications:
RZulrah is a CPU demanding script. I've managed to minimize CPU usage but it still uses more than the average script.

You'll need a decent computer/laptop.
You'll also need a stable connection with proper ping.

For reference, It runs great on my old laptop. Specifications: GeForce GTX 950M, 8GB RAM, Intel-Core i5-6300 2,30 GHZ

Quest requirements:
Started regicide + entered Zulrah Shrine once.

In game stats:
80+ range
80+ mage
80+ hitpoints
 

Features
Restores at either Clan Wars or in Player-owned house (POH).
It is pure-friendly:
Doesn't use defence mode unless you specify it.
It supports world hopping:
Select your worlds based on ping.
It supports tick listening:
Increases efficiency.
Built-in break handler:

Specify when to break (random number between x, y minutes).
Specify for how long to break.

Safe death boss:

You can retrieve items safely using the new item retrieval mechanism.

We show our K/D:
Check out the high-scores.
POH support:

82 construction is required.
Ornate rejuvenation pool is required.
Ornate jewellery box with a glory in it, is required.

Stop conditions
Stop after x ; minutes, kills, consecutive deaths.
It supports Imbued heart
Custom delay settings:
Create an unique profile to prevent bans!
Fast banking
Efficient prayer using
Saves prayer every phase where it's able to.
Ring of suffering support
Includes automatic recharging.
Automatic barrows equipment repairing.
Automatic decanting potions.
Sorts inventory:
Recharging:

Recharges blowpipe and trident (automatically detects darts).

Different equipping patterns:

Uses human-like equipping patterns.

It support multiple kill trips:

Goes for another kill if you got enough prayer potion doses and enough food % left -> user input
No limit on amount of kills per trip.

It supports restocking supplies andselling loot via the GE
User-friendly GUI.
Takes seconds to setup thanks to images
It supports loading and saving multiple profiles.
Perfect jad phase prayer switching.
It supports the use of ring of recoils.
Brings an extra ring of recoil in inventory
It supports multiple potions.

Bastion
Prayer
Restore
Magic
Range
Check out these other scripts by rez
Did you like RZulrahᵖʳᵒ? Have a look below for some of the other scripts made by the same developer