RSlayer
Welcome to RSlayer, one of the most efficient OldSchool Runescape slayer scripts on the market. RSlayer is a premium script/bot for OSRS that supports almost all slayer monsters/masters. Make sure u read all the sections thoroughly before you decide to run/buy this script. It supports skipping tasks, switching gear, restocking items, mage, range and melee support and more!
Top notch script!
Super complete with restocking on G.E. Definetly one of the best scripts i've used in the past years.
Great support on discord from Rez aswell. Definetly worth a couple of bucks. -Piglet69
nieve works 100% amazing.
-Aykut
Nice so far. Can't wait for Konar! -EndlessSummer
Top script and amazing support from Rez! -Litago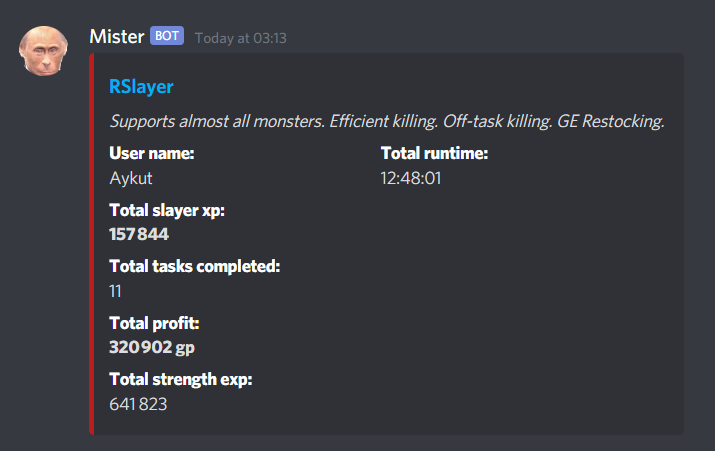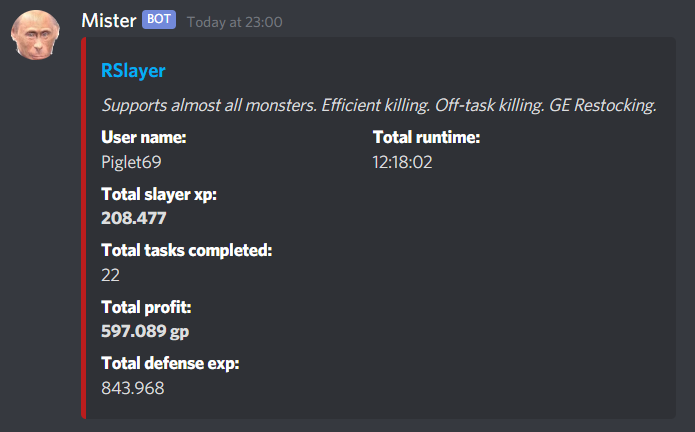 Join the discord for live progress reports!

Supported modes
Turael
Vannaka
Konar
Nieve/Stieve
Kill one monster

Supported monsters (70)
GREEN_DRAGONS  
BEARS  
BATS  
SCORPIONS  
MINOTAURS  
FLESH_CRAWLERS  
CATABLEPONS  
WOLVES  
COWS  
CHICKENS  
ICEFIENDS  
DOGS  
DWARVES  
GHOSTS  
RATS  
SKELETONS  
GOBLINS  
SPIDERS  
ZOMBIES  
MOSS_GIANTS  
ICE_GIANTS  
ICE_WARRIORS  
CAVE_SLIMES  
ROCKSLUGS  
CAVE_CRAWLERS  
BLOODVELD  
KURASK  
TUROTH  
TROLLS  
ANKOU  
VAMPYRES  
CROCODILES  
OGRES  
JELLIES  
BASILISKS  
PYREFIENDS  
BANSHEES  
ABYSSAL_DEMONS  
CRAWLING_HANDS  
INFERNAL_MAGES  
GHOULS  
HARPIE_BUG_SWARMS  
HILL_GIANTS  
HOBGOBLINS  
LIZARDS  
OTHERWORLDLY_BEINGS  
SHADES  
CAVE_BUGS  
KILLERWATTS  
BLUE_DRAGONS  
LESSER_DEMONS  
GREATER_DEMONS  
HELLHOUNDS  
BLACK_DRAGONS  
FIRE_GIANTS  
BLACK_DEMONS  
ABERRANT_SPECTRES  
SUQAHS  
NECHRYAEL  
GARGOYLES  
DAGANNOTH  
DUST_DEVILS  
ELVES  
COCKATRICE  
KALPHITE  
WEREWOLVES  
MONKEYS  
WYVERNS
WYRMS

Features
Restocks gear/required items automatically at GE.
Swaps gear for certain tasks and swaps back after your task is done
Off-task killing

Kill monsters off-task. e.g. Flesh crawlers in SOS

Mage, range and melee support
Progressive fighter option

Auto-switches combat styles for efficient levelling
Auto-upgrades/buys gear and weapons when levelled

Gets new tasks at slayer master.
Prayer flicks.
Highly customizable per task.

Full settings support per task (potions, food, prayer, looting, equipment)

Task skipping via:
Hops worlds.
Full saving settings support:

Including task customization.

Finishes your current task if you have one) then proceeds to the slayer master you chose in the UI :
Supports multiple traversal methods for maximum efficiency
Check out these other scripts by rez
Did you like RSlayerᵖʳᵒ? Have a look below for some of the other scripts made by the same developer